Saisho Ceremony in Singapore: A Day of Hope and Healing for All
admin
November 23, 2017
Comments Off

on Saisho Ceremony in Singapore: A Day of Hope and Healing for All
comments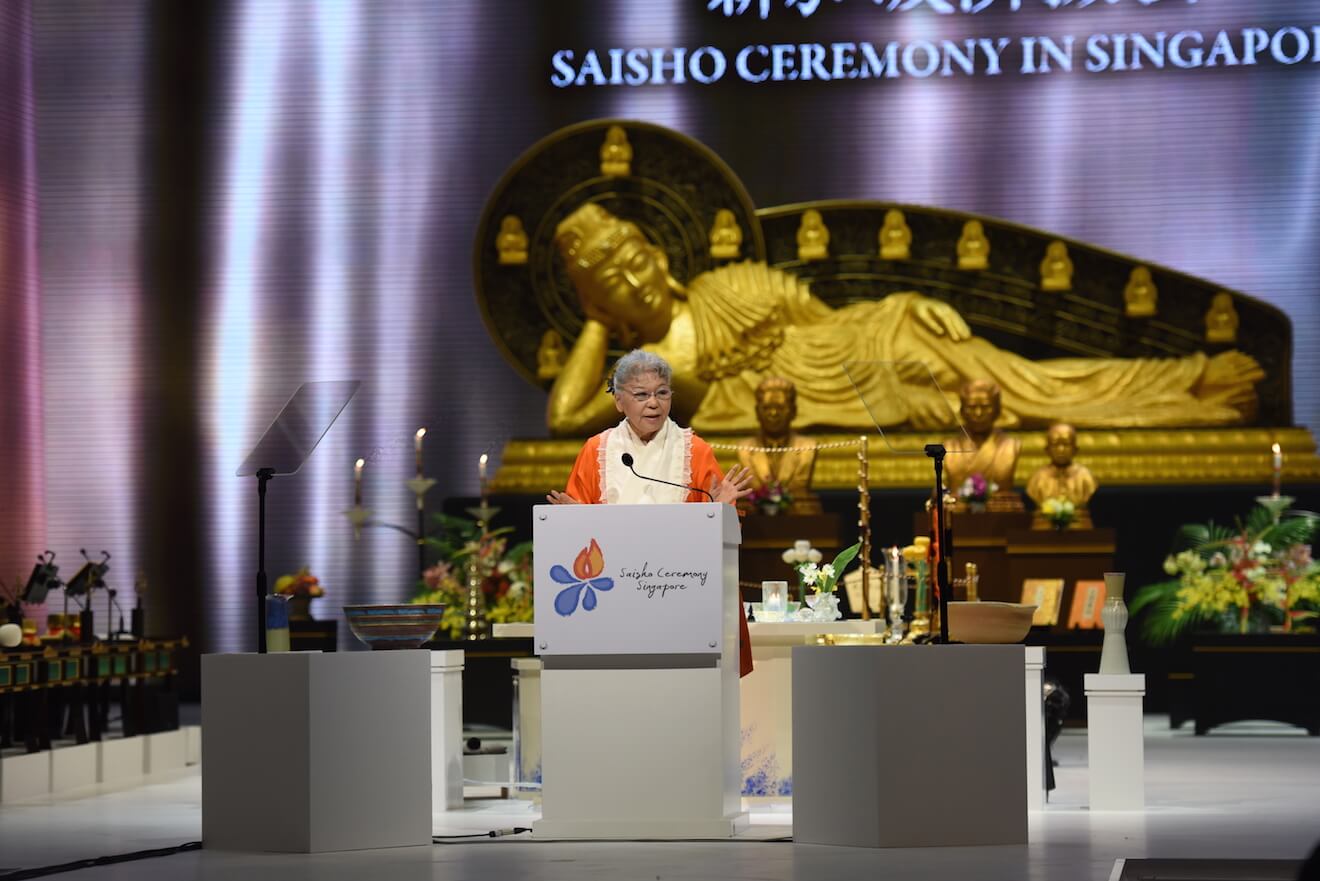 "Trust in the power of saisho."
Her Holiness Keishu Shinso, Head of Shinnyo-en, shared these words as she concluded the Saisho Ceremony of Fire and Water last Sunday 19 November 2017 at the Singapore Indoor Stadium. Over 6,000 participants from 31 countries witnessed this event—held for the first time in Singapore—that was envisioned to inspire hope and healing for all.
This "power of saisho" shone through as Her Holiness led the rituals of fire and water that not only awakened wisdom and compassion but also extended goodness and merit to those who have passed on.
Before the Nirvana Buddha image and busts of the Shinnyo Masters, Her Holiness performed the Homa and Merit transfer rites. Representative members and inter-faith guests participated in the lantern floating during the merit transfer rite, and offered Homa sticks at the Homa hearth during the Homa rite.
The collective chanting of the mantra of benevolence and compassion (Goreiju) and the Jojusan (Namu Shinnyo), led by Her Holiness, was a moving and transcendent moment.
First celebrated in 1992 by Shinnyo-en's founding Master Shinjo Ito, the Saisho ceremony is also an avenue to realise his wish of bringing peace and harmony to the world.
Central to this year's ceremony was highlighting the diverse background of Singapore, a country that has always embraced harmony, through multicultural performances from local talents: music composer Indra Shahrir Ismail, dance organisation Sri Warisan, a capella group Vocaluptuous, kompang and gamelan ensemble Nadi Singapura, and instrumentalists Tay Zhi Wen (erhu), Bobby Singh (percussionist), Atman (ocarina), Yvonne Tay (gu zhen), Sarah Wong (harpist), and Nadarajan Kathirgamu (sitar).
To further promote unity despite cultural and religious differences, the event also brought together people from different faiths.
One of our interfaith guests remarked: "It was an inspiring spiritual session and the song by Dick Lee, "Bunga Sayang" was a nice surprise, and one which added local colour, contrast and diversity. I am impressed by Shinnyo-en's good example of walking the spiritual path with moderation, practicality, empathy and compassion. Your support of interfaith activities honours interconnectivity, part of the spirit of our age."
"The whole ceremony was quite magnificent, the chanting was soothing and peaceful. I enjoyed the meaningful prayer session and also joined in the prayer for world peace," Cassandra, an invited guest, added.
We also have representatives from the Asia Oceania region, including Australia, Hong Kong, Indonesia, Korea, Malaysia, Mauritius, Myanmar, Philippines, Singapore, Sri Lanka, and Taiwan who participated in the Asia-Oceania Gratitude Ceremony where they expressed their gratitude in walking the Shinnyo Path in their own languages.
Before the service ended, Her Holiness shared these kind words: "We all have something good and unique within us, our Buddha nature. We awaken to Shinnyo, our compassion and wisdom, through Founding master Shinjo, Master Tomoji, Kyodoin and Shindoin, thus activating our Buddha nature. Everyone can find happiness if you trust and believe in Shinnyo, that wisdom and compassion reside within each one of us. I hope you will remember even just a bit of what you experienced today and walk the path of Shinnyo."
Saisho Ceremony in Singapore 2017