Shinnyo-en Singapore Youth Offer Encouraging Look at the Next Generation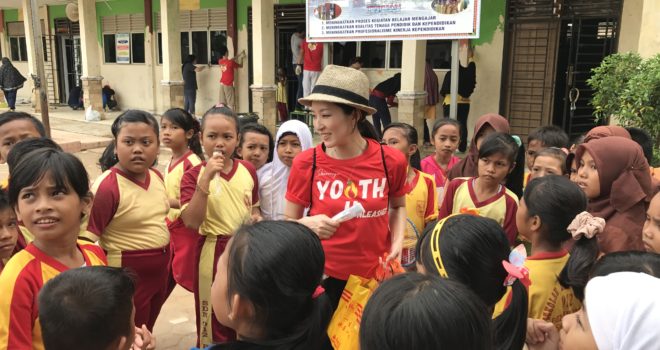 Cherene
October 29, 2016
Comments Off

on Shinnyo-en Singapore Youth Offer Encouraging Look at the Next Generation
comments
The values that are foundational to Shinnyo-en's teachings and beliefs are not bound to the act of meditation alone. In fact, oftentimes we can find them in our daily lives simply by being more mindful of ourselves and of the community that we live in. Being part of a larger community and being able to give back to it in a meaningful way brings us joy, as well as allowing us a moment to reflect on our awareness of the world and the people around us.
In this way, our role in the place and community that we live in is an important part of our lives. In Singapore, the Resident's Town Day party encompasses 10 blocks of apartments in a Singaporean neighborhood and is meant to promote a sense of community and togetherness. At a recent party, at which the Guest of Honour was the Member of Parliament – Minister Tan Chuan-Jin, two youth members from Shinnyo-en Singapore performed songs for the audience present.
The Shinnyo-en youth continue to embody the spirit and essence of these core values, and with compassion and positive energy, over the Deepavali public holiday, 30 of them made a trip to help at a primary school in Batam.
They helped build fencings around the school garden compound, put on a fresh coat of paint on the walls, and held a fun and interactive educational session on dental health. English books, stationery, tubes of toothpaste and toothbrushes were donated to the school as part of Shinnyo-en's effort to help the underprivileged.
The continued efforts of Shinnyo-en Singapore's youth volunteers reflect a positive light in their communities, and give us an encouraging look into how the universal human values that Shinnyo-en upholds and promotes are being carried on in the next generation.
Shinnyo-en Singapore began its activities in 1994 in central Singapore and the temple is currently located in the Eunos area. Shinnyo-en practitioners come from all walks of life to cultivate their innate buddha-nature, practicing in society and through volunteer events.