2014 Hawaii Lantern Floating Ceremony
admin
July 3, 2014
Comments Off

on 2014 Hawaii Lantern Floating Ceremony
comments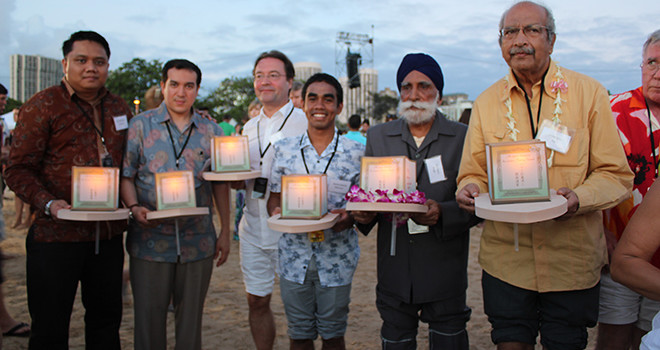 On 23rd May – 27th May, Shinnyo-en invited a group of religious leaders from Singapore to participate in the 16th Hawaii Lantern Floating Ceremony in Hawaii, United States of America. This was the first time that we had invited influential inter-religious representatives from Singapore.
The religious leaders were from different faiths including Islam, Hindu, Sikh and Baha'i. The leaders were given the invaluable opportunity to participate in the Hawaii Lantern Floating Ceremony, led by Her Holiness Shinso Ito. They had also the chance to meet and greet with Her Holiness Shinso Ito at the Hawaii Convention Centre where there was an exchange of ideas and opinions on the importance of inter-faith in contributing to world peace.
As part of the trip, they visited the Hawaii Shinnyo-en temple where they learnt more about the beliefs of Shinnyo-en and its practices.
In all, it was an educational trip where the religious leaders had a good experience learning more about Shinnyo-en and the significance of the Hawaii Lantern Floating Ceremony.
2014 Hawaii Lantern Floating Ceremony